Why buy your Steeler Seat Licenses from A Fan's Best Friend?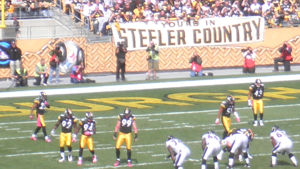 Personal, Individual Service
We treat each and every customer with first class service, every time. You see and hear who you are dealing with, not trusting your dream to somebody at the other end of e-mail.
We do ALL the work
You simply submit the offer and sit back while we do all the legwork. We provide you with the proper paperwork, secure the seats from the seller, and personally deliver all the paperwork to the Steelers. You just enjoy your new seats.
You become part of the Fan's Best Friend Family
We are available to our customers now and later. Whether its extra tickets, annual tailgate parties, more seat licenses or anything else, we're here for you!
Trustworthy
We've been in business for over six years and have successfully transferred hundreds of seat licenses and sold tens of thousands of tickets to Pittsburgh Steelers Fans.
Knowledgeable Staff
The expertise of our staff is second to none. We focus all of our attention on Pittsburgh fans and Pittsburgh venues.
THE PROCESS
Find the Steelers Seat License you would like to purchase.
Complete the form on the listing - be sure to place a bid!
We contact the Seller with your offer. The Seller has two options:
ACCEPTS OFFER (See below)
Rejects Offer/Submits Counteroffer - negotiations continue
Once the offer is ACCEPTED, you have 7 working days to submit payment. Once payment is received, we begin the transfer paperwork.
We meet with the Seller and obtain the required transfer documentation.
We either personally meet with you at Heinz Field or we deliver for you the required transfer documentation from both the Buyer and the Seller. Your transfer is complete.
We release funds to the Seller.