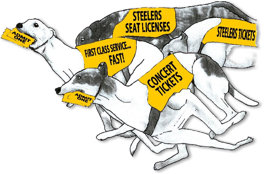 BY MAIL:
A Fan's Best Friend, Inc.
127 Lentz Road
Latrobe, PA 15650
Phone:
(724) 708-6777
Business Hours:
10:00 am - 7:00 pm - 7 days a week
Email:
Use the
form below
to send us a email.
Here at A Fans Best Friend not only do we specialize in great pricing and fast service, we like to do business face to face with our customers making them feel safe and secure. Our goal is to make sure our customers become friends and feel like they were treated like VIPs!
That's what A Fans Best Friend is all about!
We would love to hear from you!
Give us a call at (724) 708-6777 or Contact Us by email.
A Fan's Best Friend, Inc. is an independently owned and operated ticket broker/agent, engaged in the business of securing sold out, hard to find, premium tickets and seat licenses. Our prices reflect the costs of obtaining quality seating and hard to get tickets. We are not affiliated with any promotional office, box office ticketing system, or sports team.